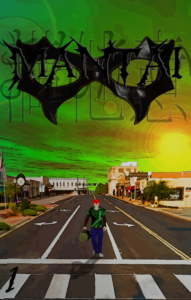 Mantai Issue 1
A young man looking to get his life in order returns to the small Texas town where he used to spend his summers with his father and grandfather. Unfortunately, the small town is now in the grips of a nefarious businessman. These two men are destined to collide.
CLICK ON THE COVER FOR A PREVIEW.

Mantai Issue 3
Following the events of Issue 2, Parker is faced with news of a kidnapping and now has to choose whether or not he wants to live in silence or do the right thing.
Disgraced chemist Francis Mills has made a deal with Mr. Taggert for an early release from prison. After witnessing the fate of the previous meth cool, Francis realizes he's in over his head.
CLICK ON THE COVER FOR A PREVIEW.